To specialise or not to specialise, that is the question: Is it better to carry on trying to fix multiple brands' vehicles, or is it just easier to specialise in one or two brands?
Andy Brooke describes some of his personal experiences of running multi-make workshops and how he made the decision to become a specialist. As cars become more complex, it may be a very good idea to specialise. With the increasing complexity of vehicles, specialisation is becoming a smart move for garages and workshops.
Personal Experience with Multi-Brand Workshops
I have had lots of personal experience running multi-brand workshops, with every conceivable type of vehicle arriving at our door for either an MOT, service, or diagnostics & auto electrical work. I was an MOT tester, diagnostic- and auto-electrician. Some of the jobs I ended up doing were pretty horrific. I soon learned that saying yes to every job on every vehicle is a really bad idea. Sometimes, I would take jobs on and end up feeling like I had handed the customer a big pile of £20 notes. I had to put it all down to experience. Admittedly, some of this was due to pride as I always made sure I fixed any vehicle that came through the door.
Imagine the situation where a car rolls into your workshop. You look at it, and within 30 seconds, you smile and say, "I know what's wrong because I've seen it a dozen times before.". This is what it feels like to be a specialist.
Making the Decision to Specialise
I made the decision to change the little village garage in the village of Rossett on the Cheshire/North Wales border into a Saab specialist back in 1998. A few years later, I knew I'd made the right decision. I knew all the common fixes, we had all the correct data, genuine Tech 2 WIS, TIS, and all the other conceivable special tools needed to fix Saabs, plus all the common parts on the shelf. I used to fix convertible roofs, and the dreaded CIM modules and could fix pretty much everything. I even went into the part refurbishment business, selling Saab 900 roof motors at one point. It was laughably easy, and we also had a great sales business off the back of it.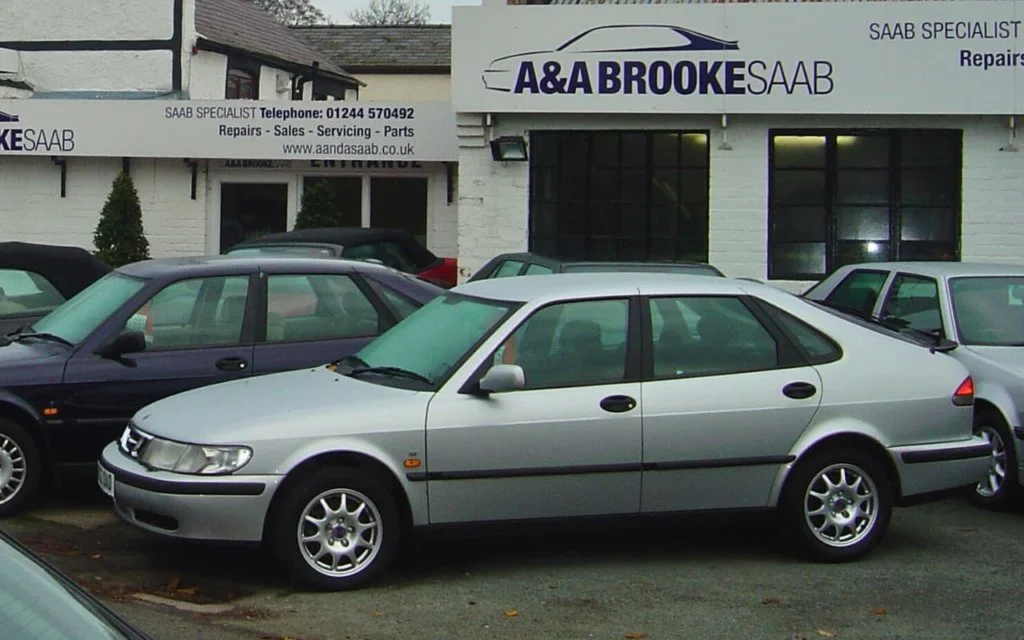 The Success Story: Transforming a Village Garage into a Saab Specialist
So, firstly, how do you decide what to specialise in? Why did I choose to become a Saab specialist? Admittedly, I like the quirkiness of the old 900 Turbo. However, the truth is it was purely a business decision. There were a lot of Saabs in the area because there were quite a few Saab garages in the North West. We had a great catchment area. I looked around and decided there was definitely a niche market for people repairing and selling Saab vehicles. My business plan initially was to become a Swedish specialist, doing both Saab and Volvo. The Volvo idea quickly dropped off my horizon, as there were well-established Volvo specialists in the area and actually not that many vehicles. One of the reasons I chose Saab was that they were high-end, fairly unique, and sometimes difficult to fix, and mainly the clientele would pay the money. Saab owners seemed to be either a solicitor, a dentist, or an architect. In 1998, I was charging £45 per hour, whereas a Saab main dealer was charging about £75. We aimed to offer the equivalent service offered by the main dealer, including courtesy cars, a nice reception area, and a cup of coffee on arrival.
I employed ex-dealer technicians, got a great sales team together, and managed to source cars directly from contract lease companies. In the end, I attracted some investors. I left the business in 2006 when it had a turnover of over £4 million – not bad considering it was a small garage in a commuter belt village on the border of England and Wales.
The key is to invest in the right things: get the right tools for the right job, the right information, and actually, the right parts are important. We hardly ever used any pattern Saab parts back then, as they simply were not good enough. This meant we had a great relationship with our local main dealer as a parts supplier. We invested time and effort into building a website and getting the look and feel of the premises right, so it felt almost like a main dealer. We also used to break Saabs, as parts were also very expensive. This helped some of our clientele with older vehicles.
The Saab garage was the first of many businesses, and since then, I've gone on to advise a lot of people about specialising. The formula is actually very simple: make a plan, look around, and stick to it. Don't waste time and money doing jobs that aren't for you, and don't be scared to turn people away. A good motto to remember for life and business: You can't please all the people all the time.
The Formula for Specialisation Success
What would I personally do today? I would use the same formula again. I would look for what vehicles were popular in my area, look at the return on investment offered by a particular brand, and look at the demographic of the owner type and whether they would spend money or not. To explain further, you never know what can be successful until you research properly. I spoke to a Renault specialist in London recently, and I actually said, "Wow, you're the only Renault specialist I know that makes any real money. How do you do it?" He explained to me that it's down to his market demographic because he's in a very bohemian area of London where intellectual and artistic types congregate, including many French expats who love the quirkiness of the vehicles. They will always pay decent money to keep even their old Renault Five on the road.
As research for this article, I've looked at my local area and, given my background experience, Jaguar Land Rover currently offers the best return on investment for me. Many large main dealers are dotted all the way down the coast into Wales and up to Liverpool and Manchester, with Range Rovers being the popular choice among the Cheshire set. Jaguar Land Rover vehicles are definitely not for the faint-hearted. I have two Land Rover Discoverys myself and have worked with Land Rover for many years, so I'll try to be polite at this point. Most JLR vehicles are wonderful when they work! However, they are a diagnostic technician's dream with endless wiring faults, mechanical faults, and lots of known fixes. If you use the OEM equipment, have the right training, and have access to the OEM data, it's actually fairly easy. You also need to get very used to taking the body off the chassis to change turbos.
To back up my thoughts about JLR, I've carried out further research. We have a lot of tech support customers worldwide who are Jaguar Land Rover specialists. Also, for many years, we have provided diagnostic tools and training to Britpart customers. We speak to these customers sometimes daily, so we know for certain that these workshops all make money, as they all invest in training, technical support, and OE tools. Ironically, one of the biggest complaints we have from a JLR workshop is that they're too busy.
Next, I looked at the most popular brands in the VAG group, such as Volkswagen, Audi, Seat, and Skoda. Simply put, there are a lot of them out there, and as we move into further complexity with these vehicles, specialisation in these brands would be a great idea. Lots of parts fit lots of vehicles, the parts are relatively available and relatively inexpensive, and there are lots of second-hand parts. Although be warned, after 2015, don't try fitting any second-hand control modules as they are difficult to fit and programme because of component protection. Again, decent training and a genuine ODIS diagnostic tool are the way to go. I recently wrote a blog about the Golf Mark Eight and its gateway security and complexity. Aftermarket tools simply won't touch them. The only problem with becoming a VAG specialist is that you will have a lot of competition, although it's up to you to find out how good they are and what your local market looks like.
Expanding Specialisation Options
Or why not go the whole hog and become a German specialist, Italian specialist, French specialist, or Swedish specialist? This can be an option for people in the right geographical area. However, you'll have to double or triple the tooling, training, and support investment needed to set up. But you can be very successful at it, as proven by some of our support customers who do this.
Here's something else to consider for the future: The SMMT figures up to July 2023 state that 52% of the cars sold in the UK market are fully EV or hybrid petrol vehicles. If I were thinking of building a future and long-term sustainable growth business, I would definitely look at this market.
Alternatives to Specialisation
What if you don't want to specialise? This is a subject my team and I speak to workshops about every day. There is no easy answer to this, to tell you the truth. It's like the old adage: there's no magic wand. We get asked every day if there is a diagnostic machine that does everything, and clearly, there isn't and never will be. Some workshops have gone down the route of remote diagnostics to try and get modules programmed. You can look at remote as a "get out of jail free" card, but as a business solution for a mechanical workshop, it's a complete dead-end. You can give a man to a fish, he'll eat for a day, teach him how to fish, and he'll eat forever. In this case, you're buying the fish every day, and it can be an expensive fish. For example, I've recently had a friend use a remote tool to programme a steering rack on a BMW. He paid £150, and he asked me how much it would have cost using the BMW tool. I said €11. He almost burst into tears as he's got a load more problems with the same vehicle. It's okay, I ended up fixing his other faults. He is now buying the BMW tool as he's worked out his return on investment, and he's going to advertise locally that he can now fix BMWs.
The Cost of Diagnostic Tools and Business Planning
The best advice I can give you if you want to keep working on multi-make vehicles is to get decent technical support, get as much training and technical data as possible, and be really choosy with your jobs. Charge for everything; always charge for the initial diagnosis. Remember, whatever tool you have, it's costing you in the long run, whether it's £3000 for an Autel or €11 an hour through the BMW tool, plus the cost of the support and training you need. You need to factor that into your business plan and, therefore, ultimately, what you charge per hour. And as I said before, don't be scared to turn work away.
Embrace the Specialist Mindset
If you want to know more, we have lots of blogs about individual manufacturers, how to make money from diagnostics, and, more importantly, a return on investment calculator per brand for using OEM dealer diagnostic tools.
If you want to talk to an expert, contact the Maverick sales team on +441978784602, and they can talk you through the options. We've helped hundreds of customers with the same dilemma.